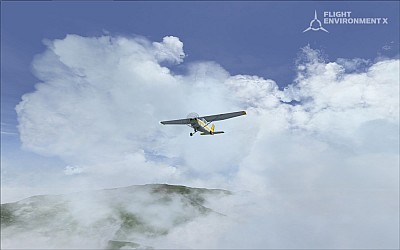 Flight One SoftwareはAerosimulationsと共にFEX(Flight Environment X)の最新版"Super High Definition"をリリースしました。このUpdateにはオリジナルFEX発表以降積み重ねられた膨大な研究成果と新しいグラフィックデータが含まれインストールサイズは6Gにもなります。解像度4096×4096での超高画質の雲、さらに洗練されたGUI、パフォーマンスの改善、さらに多彩な雲の表現など非常に多くの改良が行われています。このUpdateはFEX本体とは別にDLする必要があり、ユーザーには無償で配布されます。詳細に関してはウェブサイトでご覧ください・・Flight1(Flight Environment X showcase)又はFlight Environment X・・・・
Here are a few of the the key points of this update:
1. All new Super High Definition (SHD) cloud content, available in sizes up to a SHD resolution of 4096 x 4096. This makes your FSX skies as realistic as ever, all from high quality photography as always.
2. Many changes to the FEX GUI (Graphical User Interface). This improves work flow and makes it much easier to create new cloud themes. This feature is a huge part of FEX and we hope that it is more intuitive to use as well as fun to use.
3. Performance enhancements. The entire UI performance has been improved to offer much better speeds when performing different actions and more complex processing has been pushed into different program threads for responsiveness.
4. Improved algorithms will now allow a more advanced and progressive control over the types of clouds you desire. This allows for a denser and more richly textured cloudscape. Clouds can now be fuller and have more defined detail made possible with SHD.
5. New special designs for the SHD textures allow for more creative inputs from the user. This allows you to create special cloud scenes from light and airy clouds, to deep and moody storm clouds. We also have additional options for "Bright White" or "Blue White" clouds.
6. There is a new EXTREME clouds option providing the ability to get extra dramatic looking clouds for those that like a more exciting cloudscape.
7. Additional softness is now available to get a more delicate looking cloud.
8. Bug fixes. Several bugs have been fixed since launch within this update. Live error reporting has been implemented to more easily track any issues that may come up and ensure a rapid response.
9. User information recovery. FEX now features a Forgot Password function within the application which can email you your lost credentials.
And this is not all… New features are planned for the coming weeks.